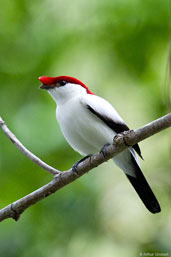 This is a collection of, mainly, bird photographs although there are some other animals included. Most of these photos are from South America, Europe, Australia Africa and Bhutan. I have attached some notes on each bird wherever possible.

20th April 2016: New species today are: Martial Eagle, Red-fronted Tinkerbird, African Pygmy-falcon, Yellow-fronted Parrot and Red-bellied Parrot while there are new photos for Double-toothed Barbet.

6th April 2016: New species today are: White-browed Sparrow-weaver, Baglafecht Weaver, Spectacled Weaver, Vitelline Masked Weaver, Speke's Weaver and Platysoma seminationis and there are new photos for Village Weaver.

2nd April 2016: New species today are: Mahgreb Green Woodpecker, White-crowned Parrot, Red-capped Manakin, Moorland Chat and Nursery-web Spider while there are new photos for Great Kiskadee and Summer Tanager.

28th March: Back from an excellent trip with Rockjumper Tours to Ethiopia with over 200 new species to add as well as a few more from Morocco and Central America. Today's new species are: Western Bonelli's Warbler and Australian Water Dragon while there are new photos for Squirrel Cuckoo, Eurasian Magpie and Willow Warbler.
I hope that you will enjoy this site.

I will be adding to it for the foreseeable future so please revisit at regular intervals.

I would also be very interested in comments about the birds, the photos and the web site. Please e-mail me at arthur(at)arthurgrosset.com

Last updated on 20th April 2016.