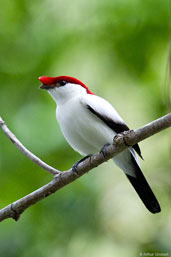 This is a collection of, mainly, bird photographs although there are some other animals included. Most of these photos are from South America, Europe, Australia Africa and Bhutan. I have attached some notes on each bird wherever possible.

19th January 2017:
With the arrival of the 2nd Volume on Passerines of the HBW and Birdlife International Illustrated Checklist by Josep del Hoyo and Nigel Collar, I have started on the rather lengthy process of changing my indices to conform to that taxonomy.
First up is Africa. Major changes are the split of Groundscraper Thrush Psophocichla litsitsirupa so that my images now show Ethiopian Thrush Psophocichla simensis; the split of Black-faced Firefinch Lagonosticta larvata so that my images are now of Grey Firefinch Lagonosticta nigricollis; and the change of genus plus the split of African Citril Serinus citrinelloides so that my images are now of Abyssinian Citril Crithagra citrinelloides.
Quite a few species have had changes to their generic name. One of the ones that sticks out for me is Familiar Chat which, although staying in the same family moves from Cercomela familiaris to Oenanthe familiaris to be beside the Wheatears.
English names have been more standardised and many have changed such as Grey-headed Social-weaver becomes Grey-capped Social-weaver; Grosbeak Weaver becomes Thick-billed Weaver; and the Negrofinches become Nigritas.

15th January 2017:
New species today are: African Paradise-flycatcher, Madagascar Paradise-flycatcher, Thamnornis, White-winged Cliff-chat, Gelada and Large-jawed Orb-web Spider while there are new photos for Mocking Cliff-chat.

11th January 2017:
New species today are: Ruddy Shelduck, White-cheeked Turaco, Ruspoli's Turaco, Rosy-patched Shrike, Black-crowned Tchagra, Giant Mole-rat and Mauritian Tomb Bat.

8th January 2017:
My latest trip was to Madagascar with Rockjumper Birding Tours ably led by Adam Walleyn. You can find a copy of the trip report here. I still have many photos from my Ethiopia trip to post here and I will be adding the photos that I managed to take in Madagascar.

New species today are: Madagascar Grebe, Red-faced Crombec, Mangrove Swallow and Common Duiker. There are also new photos of Sardinian Warbler and Common Starling. Fabrice Schmitt has pointed out a misidentification of Common Miner that I had made and, as a result, I have added a new page for Creamy-rumped Miner.
I hope that you will enjoy this site.

I will be adding to it for the foreseeable future so please revisit at regular intervals.

I would also be very interested in comments about the birds, the photos and the web site. Please e-mail me at arthur(at)arthurgrosset.com

Last updated on 19th January 2017.