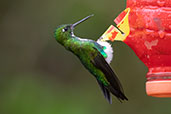 Abra Patricia, Amazonas, Peru
October 2018

The Emerald-bellied Puffleg is distributed in the Andes of Colombia, Ecuador and northern Peru. See the distribution map at xeno-canto. It is found in the interior of cloud forest mainly between 2,300 and 2,800 metres.
It has white tufts on the feet, a straight bill, a glittering blue-green belly and a white patch on the breast.

The specific name refers to Aline Bourcier, the wife of the French naturalist, Jules Bourcier, a French Consul to Ecuador.