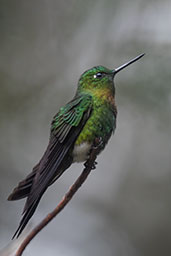 Yanacocha Reserve, Pichincha, Ecuador
November 2019

The Golden-breasted Puffbird is distributed in the Andes of Colombia and Ecuador. See the distribution map at xeno-canto. It is found in forest borders and shrubby areas mainly between 3,000 and 3,600 metres but is mainly a forest bird.

It has a straight bill, white tufts around the feet, a white spot behind the eye and a golden or coppery band across the breast.