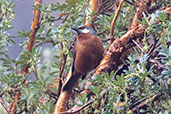 Papallacta Pass, Napo, Ecuador
November 2019

The Giant Conebill is patchily distributed from the extreme south of Colombia through Ecuador and Peru to Bolivia. It is found exclusively in patches of Polylepis woodland at or above the normal tree-line at between 3,500 and 4,200 metres. See the distribution map at Birdlife International. Because it is closely linked to Polylepis, a habitat under severe threat, it is classified as Near Threatened.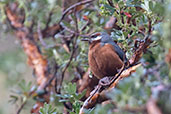 The taxonomy is a bit confusing. For many years it was classified in a genus on its own Oreomanes with its specific name fraseri after Louis Fraser, a British zoologist and collector who became the Curator of the museum of the Zoological Society of London. At one stage he collected in Ecuador for P.L. Sclater. However, the species is now more commonly included in the genus Conirostrum with the specific name binghami after Hiram Bingham, the American who explored Macchu Pichu.