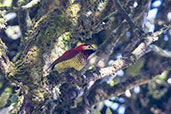 Yanacocha Reserve, Pichincha, Ecuador
November 23019

The Crimson-mantled Woodpecker is distributed in the Andes from Venezuela through Colombia and Ecuador to central Peru. See the distribution map at Birdlife International. It is found in forest and woodland mainly between 2,000 and 3,300 metres.
A distinctive woodpecker, the male has a crimson crown and malar stripe while the female has a black crown and malar stripe.

The specific name rivolii refers to the Duc de Rivoli, a son of one of Napoleon's marshals and an amateur ornithologist.