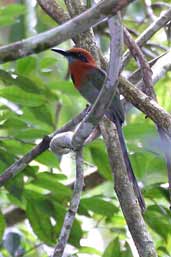 Brazil , Colombia and Ecuador

The Broad-billed Motmot is distributed from Honduras through Panama and down the Pacific coast to Ecuador and in part of the Amazon Basin south of the Amazon. See the distribution map at xeno-canto. It is found mainly in humid forest.

In the sub-species east of the Andes, as in photo 1, it lacks the bare tail shafts that are found elsewhere. One of the features which distinguishes it from the similar, though larger, Rufous Motmot Baryphthengus martii is a blue-green chin. However, you will note that in photos 2 to 4, taken at Tatamá, Risaralda, Colombia, there is no such colour on the chin. The sub-species on the western slope of the Andes should be E. p. platyrhynchum which is noted as having a less prominent blue chin spot and Hilty & Brown note that the blue green on the chin is hard to see but it seems to be totally absent from these birds.