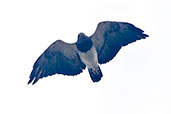 Brazil and Colombia

The Black-chested Buzzard-eagle is readily identified in flight by its short wedge-shaped tail scarcely protruding from its long, broad wings.

It is usually possible to make out the generally white underparts with the dark chest-band and tail but you are less likely to see its grey upperparts.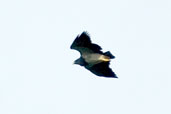 It is found in mountainous or hilly terrain where it spends a lot of time soaring while looking for prey. This consists of mammals such as rabbits, some birds, snakes and carrion.

Photos 2 and 3 are of the larger nominate subspecies which is found in south and east Brazil, Paraguay, Uruguay and northern Argentina. The smaller subspecies, Geranoaetus melanoleucus australis which also has more barring on the underparts, is found along the length of the Andes from Venezuela to Tierra del Fuego and is seen in photo 1 taken on the Nevado de Ruiz, Colombia, photo 4 was taken near Balsas, Chachapoyas, Peru and photos 5 and 6 from Ecuador. See the distribution map at Birdlife International.