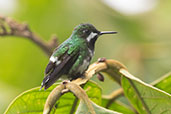 Amagusa Reserve, Pichincha, Ecuador
November 2019

The Green Thorntail is distributed from Costa Rica, through Panama to the Pacific coast of Colombia and Ecuador. See the distribution map at Birdlife International. It is found in the canopy and borders of humid forest between 300 and 1,000 metres.
This is a female showing a black throat, a conspicuous white malar streak and a white rump band. The male has an extremely long and forked tail.

The specific name comes from a little known French naturalist, a M. Convers, who worked in Colombia in the 19th century.