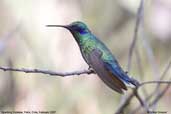 Chile, Peru and Ecuador


The Sparkling Violet-ear is distributed in the Andes from Venezuela, through Colombia, Ecuador and Peru to Bolivia, northwest Argentina and, recently, to northern Chile. See the distribution map at Birdlife International.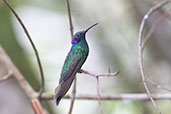 It is found in woodland, gardens and páramo vegetation. In Putre, Chile (photo 1) it was in a small plantation of eucalypts which are surprisingly full of species in this otherwise tree-poor environment.

It is a large hummingbird with a medium-length, slightly drooping bill, and an iridescent blue "ear".