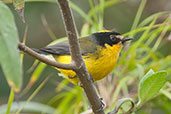 Sierra Nevada de Santa Marta, Magdalena, Colombia
April 2012

The Yellow-crowned Whitestart is endemic to the Santa Marta mountains where it is found in montane forest and cloudforest mainly between 2,000 and 3,000 metres.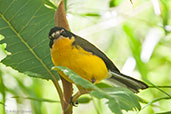 A member of the New World Warbler family, it has a yellow crown patch, buffy on the lores and above the eyes, olive above (unlike other redstarts which are grey) and bright yellow below. The tail has white outer feathers.

The bird in photo 1 was recorded by Jeremy Minns.