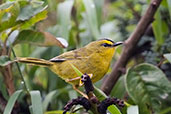 Montaña del Oso, Cundinamarca, Colombia and Cruz Conga, Cajamarca, Peru


The Black-crested Warbler is distributed in the Andes of Venezuela, Colombia, Ecuador and south to central Peru as well as the coastal mountains of Venezuela. See the distribution map at Birdlife International.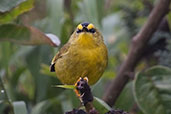 It is found in forest and cloudforest edges as well as mature secondary growth. It is often seen in clumps of Chusquea bamboo as in photo 3.

It has a black crown stripe, broad yellow superciliaries and black lores.

These birds were recorded by Jeremy Minns giving a "tchick-tchick-tchick" call and a song consisting of a couple of notes followed by an accelerating series of "chew" notes.