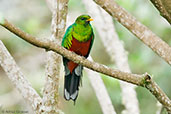 Sierra Nevada de Santa Marta, Magdalena, Colombia
April 2012

The White-tipped Quetzal is distributed in northern Venezuela and in northern Colombia around the Sierra Nevada de Santa Marta. See the distribution map at NatureServe. They are found in humid forest and secondary woodland at between 1,500 and 2,500 in Colombia.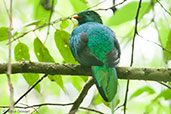 The male, seen here in photos 1 to 3, has a green head, throat and breast with a red belly and white on the undertail. The female, seen in photos 4 and 5, has a browner head and breast band with a pinkish vent.