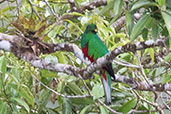 Baeza, Napo, Ecuador
November 2019

The Crested Quetzal is distributed in the Andes from north-west Venezuela through Colombia, Ecuador and Peru to central Bolivia. See the distribution map at xeno-canto. It is found in forest and forest borders mainly between 1,500 and 2,500 metres.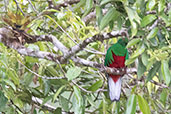 The male, shown here, is emerald green above with a frontal crest stretching over a yellow bill and sometimes covering that bill as in photo 2. The iris is red. The throat and breast are green above a bright red lower belly and white undertail. The female has a greyish-brown head and a black bill.