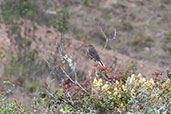 Celendin, Cajamarca, Peru
October 2018

The White-tailed Shrike-tyrant is distributed in the Andes from Ecuador through Peru and Bolivia to north-west Argentina. See the distribution map at Birdlife International. It is found in semi-arid scrub and páramo mainly between 3,500 and 4,500 metres though found a bit lower in Ecuador.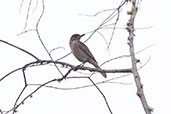 Despite its large range it is rare and dispersed and difficult to find. This apparently small and declining population has led to its designation as Vulnerable.

It is similar to Black-billed Shrike-tyrant A. montanus which also has a white tail but can be distinguished by its larger size, stouter bill with pronounced hook, more streaky throat and darker iris.