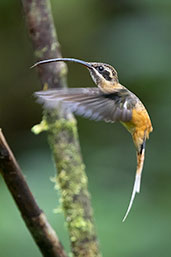 Aguas Verdes, San Martin, Peru
October 2018

The Tawny-bellied Hermit is distributed in the Andes of Colombia, Ecuador and Peru. See the distribution map at Birdlife International. It is found in montane forest mainly between 1,200 and 2,200 metres.

It is distinguished by its rufous-buff rump, its whitish throat and its curved bill.