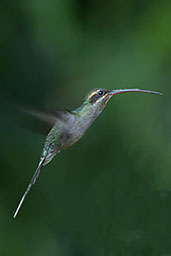 Alto Nieva, San Martin, Peru
October 2018

The Green Hermit is distributed from Costa Rica through Panama to Colombia, Venezuela and Trinidad and south through Ecuador to Peru. See the distribution map at Birdlife International. It is found in humid forest, at forest edges and in secondary growth mainly between 500 and 1,800 metres.

This female has a longer tail than a male and has more marked pale lines above and below the black eye mask.