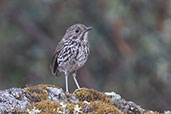 Cumbemayo, Cajamarca, Peru
October 2018

The Stripe-headed Antpitta is distributed in the Andes of Peru and western Bolivia. See the distribution map at Birdlife International. It is found in Polyepsis forest and scrub and in dwarf forest at between 3,000 and 4,300 metres. It is one of the few antpittas to be seen in the open and in rocky terrain.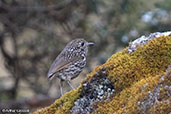 These photos are of the nominate species showing whitish streaks on the back. The sub-species G. a. punensis, found further south, has a plain back.

Usually seen alone or in pairs, it forages on the ground hopping and flicking its wings then stands motionless while hunting for caterpillars or other prey.

In contrast with other antpittas its song is weak and is a rolling series of wheezy notes.