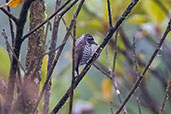 Alto Nieva, San Martin, Peru
October 2018

The Speckle-chested Piculet is endemic to a very small area of north-west Peru where it is found in humid montane forest at between 1,100 and 2,100 metres. See the distribution map at Birdlife International.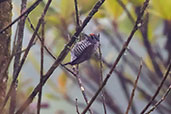 It is heavily marked below with white spots on a black breast and heavy barring on the belly. The male has red tips to the feathers on the forecrown.

Because of its restricted range and the threat of deforestation it is classified as Endangered.

Franz Steindachner (1834-1919) was an Austrian zoologist and Director of the Natural History Museum in Vienna.