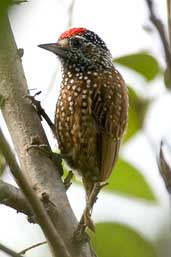 Chapada Diamantina, Bahia, Brazil


The Spotted Piculet is a Brazilian endemic found in the caatinga habitat of north-east Brazil.

It is generally dark brown but with large spots on both upperparts and underparts. The crown is black with white spots and the male, photos 1 and 2, has a red forecrown. It has buffy-white lores, a white crescent above the eye, brown with white spots on the ear-coverts and the tail has white on the central feathers. The female, as in photo 3, is similar but lacks the red forecrown.