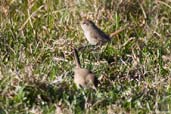 Barra do Quaraí, Rio Grande do Sul, Brazil
August 2004

A member of the Ovenbird family, the Short-billed Canastero is distributed in northern and central Argentina as well as adjacent areas of Bolivia, Paraguay, Uruguay and the extreme south-west corner of Rio Grande do Sul.

It is found in arid scrub and low dry woodland of the type we found at this site known as espinilho.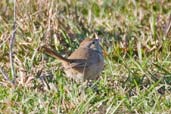 It forages a lot on the ground either singly or in pairs and its food consists of ants, beetles and other types of insects.

Distinguishing features are its broad but indistinct greyish supercilium, its short, rather stubby bill and an orange-rufous patch on the throat (which is not always visible).