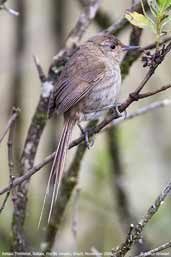 Itatiaia, Rio de Janeiro, Brazil
November 2008

The Itatiaia Spinetail is a Brazilian endemic confined to the mountains of south-east Brazil along the mountainous border between Minas Gerais and southern Espírito Santo, Rio de Janeiro and north-east São Paulo states. See the distribution map at Birdlife International.

It is found in humid scrub and tall grassland mainly above the timber-line at between 1,850 and 2,800 metres.

It is dark brown above with a long, scruffy, forked tail. Below it is dull grey-brown and it has a tawny spot on the chin.

It feeds on insects which it gleans from the leaves and branches of bushes.