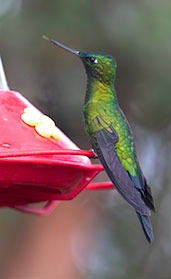 Yanacocha, Pichincha, Ecuador
November 2019

The Sapphire-vented Puffleg is distributed in the Andes from the extreme south of Colombia through Ecuador to Peru. See the distribution map at xeno-canto. It is found in forest borders and shrub mainly between 2,700 and 3,700 metres.

It is shining green above and golden green below with white leg-puffs, a violet crissum and a long, forked tail.