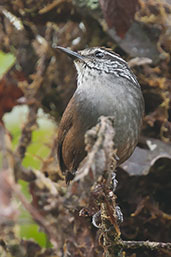 Cerro de Montezuma, Tatamá, Risaralda, Colombia
April 2012

In 1986 Steve Hilty wrote in Birds of Colombia under Grey-breasted Wood Wren's Voice: "except in w Cauca and w Nariño where sings a remarkably different fife-like ser. of tinkling notes in many patterns and is perhaps a different sp." In 2003 he was a co-author with P.G.W. Salaman et al in "A new species of Wood-wren (Troglodytidae: Henicorhina) from the Western Andes of Colombia. Orn. Colombiana 1: 4-21." This was the description of the Munchique Wood Wren currently found only in a few small areas of the western cordillera in central Colombia.

It is classified as Critically Endangered by Birdlife International.