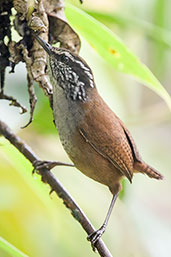 Cerro de Montezuma, Tatamá, Risaralda, Colombia
April 2012

The Grey-headed Wood Wren is distributed from Mexico through Central America to Colombia and Venezuela and south to Bolivia. See the distribution map at NatureServe. It is found in Colombia in the mossy undergrowth of cloud forest at up to 4,000 metres.

It is small with a short tail usually held cocked. It has a prominent white superciliary and the wings and tail are lightly barred black. The sub-species on the Pacific slope of the western cordillera, shown here, is H. l. brunneiceps which has a rufous-brown crown rather than an olive-brown crown.