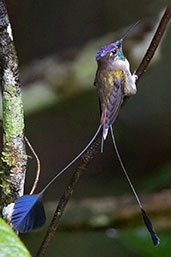 Huembo, Amazonas, Peru
October 2018

The Marvelous Spatuletail is endemic to a small area in northern Peru at between 2,100 and 2,900 metres. See the distribution map at Birdlife International. Because it is currently known from only two locations and its population is estimated to be less than 1,000 and declining it is classified as Endangered.

It is found at forest edges and in montane scrub where it feeds on nectar. It is a trap-line feeder and normally perches rather than hovers while feeding.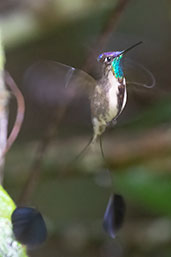 It is also subordinate to most other hummingbirds in the vicinity which is why it is difficult to catch more than a passing glance of the lovely creature.

The male has these spectacular racquet tail feathers as well as a blue crest, blue-green gorget and white underparts with a dark central stripe. The female in photo 3 lacks all of these but has a rudimentary racquet tail.

The generic name Loddigesia refers to George Loddiges, a British naturalist and taxidermist who was a great friend of John Gould and shared his love of hummingbirds.