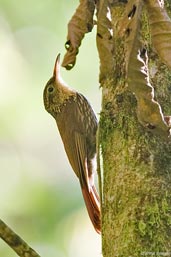 There are three subspecies two of which are shown here in sequence from south to north.

Photo 1, taken at Teresópolis, Rio de Janeiro, shows the nominate subspecies with its yellowish-buff supercilium and its unmarked creamy-white throat and an upper belly marked with elongated streaks. The nape is also streaked and this extends to the upper back. The bill is dark above and pinkish white below.

Photos 2, taken at Camacan, Bahia and 3 and 4, taken at Boa Nova, Bahia show the subspecies X. f. tenuirostris which is larger and has weaker brown edging to the buff spots below.