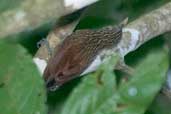 Brazil and Ecuador

The Striped Woodcreeper is distributed throughout most of the Amazonian Basin. See the distribution map at Birdlife International. It is found in humid forest mainly, though not exclusively, in seasonally flooded várzea and igapó forest.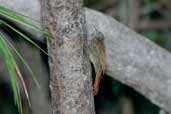 The points to watch out for are the pale grey bill, the black-edged buffy streaks on the crown extending down the back and the buffy white streaks from the pale throat to the breast.

The first photo, taken near Tabatinga, and the 4th photo taken in Ecuador show the sub-species X. o. palliatus which is a deeper rufous colour with a heavier bill than the nominate sub-species shown in photos 2 and 3 which were taken at Borba on the east bank of the rio Madeira.