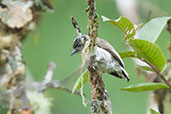 Montezuma, Tatamá, Risaralda, Colombia
April 2012

The Greyish Piculet is endemic to a small area of Colombia from Antioquia to the Cauca Valley. See the distribution map at NatureServe. It is found at the edges of forest and woodland and in scrub mostly at between 800 and 2,100 metres.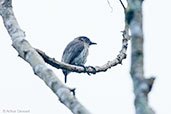 A fairly plain piculet, the male has some crown feathers finely tipped yellow with others tipped white. The female, as in these photos has only white tips to the crown feathers. The sub-species P. g. antioquensis is found on the western cordillera of the Andes including Tatamá and has more obvious grey streaking on the underparts than has the nominate race.

The call is a high-pitched and rather weak trill. (You may have to increase the volume to hear it properly.