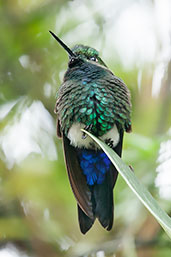 Cundinamarca, Colombia
April 2012

The Glowing Puffleg is distributed in the Andes of north-west Venezuela, Colombia, Ecuador and the extreme north of Peru. See the distribution map at NatureServe. It is found mainly between 2,800 and 3,500 metres in open areas such as cloudforest borders and páramo.

Amongst its distinguishing features are a purple throat patch bordered by golden green which is not visible in these photos, the large downy leg puffs, the purplish blue undertail coverts and the forked tail.