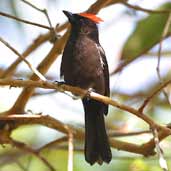 Brazil

The Flame-crested Tanager is found throughout most of the Amazon Basin, south Venezuela and the Guianas with a second, disjunct population in eastern Brazil.

It inhabits forest, forest borders and clearings where it usually forages in the canopy or mid-storey. It eats insects, fruit, berries and seeds.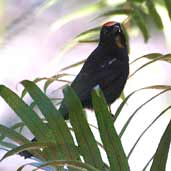 The male is mostly black with a broad, flat yellow and orange crest. There is a variation of crest colour amongst the 9 sub-species. Photos 1 and 2 from Ubatuba, São Paulo and photos 3 and 4 from Boa Nova, Bahia 3 are of the east Brazil sub-species, T. c. brunneus. Photo 5 from Cristalino is the sub-species T. c. madeirae while photos 6, 7 and 8 from Caxiuanã are of the sub-species T. c. pallidigula, literally "pale throat".

You can usually see some white at the shoulder and this shows as white under-wings in flight. The rump is buff as is the throat although this might not be very noticeable in some lights and some sub-species have smaller throat patches.