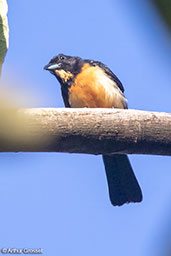 Cordillera Escalera, San Martin, Peru
September 2018

The Yellow-crested Tanager is distributed in eastern Peru, adjacent western Brazil and northern Bolivia. See the distribution map at Birdlife International. It is found in forest and forest edges up to about 1,250 metres in Peru but at higher elevations in Bolivia.

These photos are of a male. The female is very different being olive above with a greyish head and buffy underparts.