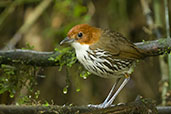 Colombia and Ecuador


The Chestnut-crowned Antpitta is distributed in the coastal mountains of Venezuela and the Andes of Colombia, Ecuador and northern Peru. See the distribution map at xeno-canto. It is found in forest borders, bamboo, secondary growth and elsewhere from about 1,200 to 3,600 metres.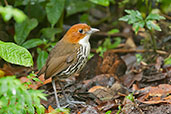 It forages on the ground for spiders, caterpillars and insects.

Jeremy Minns recorded the song which consists of 3 notes with the middle note the lowest in pitch, the first note highest and weakest and the final note loudest and falling in pitch.