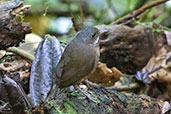 Refugio Paz de las Aves, Pichincha, Ecuador
November 2019

The Moustached Antpitta is distributed on the western slope of the Central Cordillera in Colombia and on both slopes of the western Cordillera in Ecuador. See the distribution map at xeno-canto. It is found on or near the ground in wet, mossy forest at between 1,800 and 2,200 metres.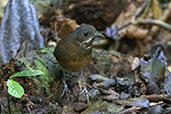 It can be confused with Scaled Antpitta G. guatimalensis and, for many years it was overlooked as a result. It is distinguished by its whitish belly, the black scaling on the malar stripe and the spotting on the white crescent on the upper chest.

The specific name is a homage to Arthur Allen (1885-1964) who was Professor of Ornithology at Cornell University.