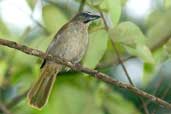 Serra Bonita, Camacã, Bahia, Brazil and
Minca, Magdalena, Colombia

The Buff-throated Saltator is distributed from Mexico, through Central America and into most of northern South America and the Amazonian Basin. There is a disjunct population in eastern Brazil. See the distribution map at NatureServe.

It is found in secondary woodland and forest borders where it forages for fruit, flowers and nectar. It rarely eats insects.