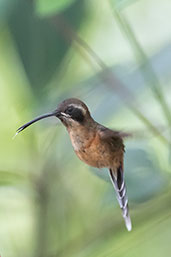 Waqanki Lodge, San Martin, Peru
October 2018

The Black-throated Hermit is distributed in the foothills of the eastern Andes and nearby Amazonia in Colombia, Ecuador and Peru. See the distribution map at Birdlife International. It is found in the dense understory of humid forest up to 1,100 metres.

Larger than Reddish Hermit P. ruber, it has a dusky throat and dullish belly.