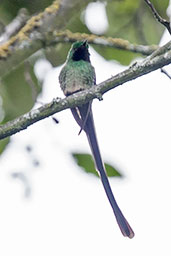 Guasco, Cundinamarca, Colombia and Quito, Ecuador


The Black-tailed Trainbearer is distributed in the Andes from Colombia to Peru. See the distribution map at xeno-canto. It is found on forest edges, Polylepis woodland and in páramo with scattered bushes and is mainly between 2,600 and 4,000 metres.

The gorget is, in fact, emerald green but in certain lights looks black.