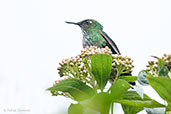 Nevado del Ruiz, Caldas, Colombia
April 2012

The Mountain Avocetbill is distributed in the Andes from central Colombia through eastern Ecuador to northern Peru. It is found in forest borders and shrubby páramo at between 2,600 and 3,600 metres.

It is notable for its short black bill with the upturned tip and the white spot behind the eye.