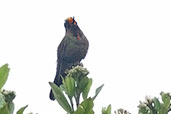 Nevado do Ruiz, Risaralda, Colombia
April 2012

The Rainbow-bearded Thornbill is distributed in the Andes of central and southern Colombia, Ecuador and northern Peru. See the distribution map at NatureServe.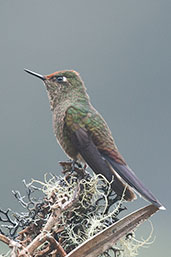 It is found in shrubby areas on rocky slopes at or below the páramo at altitudes between 2,700 and 3,600 metres. It feeds on nectar either while hovering or while clinging to the plant and it also gleans insects from the vegetation.

The male, seen here in photo 1, has the short, straight bill typical of thornbills with dark bottle green plumage, a rufous forehead and crown stripe, and an emerald green throat patch with a red elongation. The rump is coppery red while the tail is blue-violet with white tip. Photos 2 and 3 are of an immature bird lacking the throat patch and is similar to the female plumage.