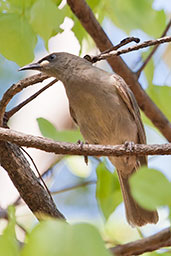 Northern Territory, Australia
October 2013

The White-gaped Honeyeater is distributed in the north of Western Australia, Northern Territory and Queensland. It is found near water in mangroves, woodland and Pandanus groves where it feeds on nectar, fruit, seeds and insects.

It is grey-brown with an olive wash on the wings. It has a creamy-white to yellow half moon above the gape. The immature, as in photo 3, has a brighter yellow gape.