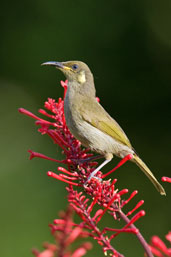 Cairns, Queensland, Australia
November 2010

The Graceful Honeyeater is distributed in southern Papua New Guinea and in Australia from Cape York south to the Mitchell River on the west coast and south to Paluma on the east coast. It is found in rainforest, eucalypt forest, mangroves and gardens.

It is virtually identical to Yellow-spotted Honeyeater M. notata but is smaller with a proportionately longer and slimmer bill. The yellow gape line does not extend so far under the eye. It is also similar to Lewin's Honeyeater M. lewinii which tends to be a bird found more often at higher elevations.