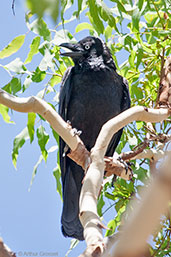 Kakadu, Northern Territory, Australia
October 2013

The Torresian Crow is distributed in New Guinea and nearby islands and in the northern part of Australia. It is the tropical equivalent of the Australian Raven C. coronoides. See the distribution map at Birdlife International.

It is found in all habitats and is an opportunistic and omnivorous eater.