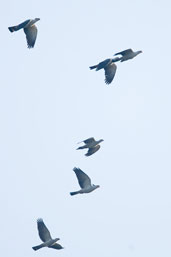 Paluma, Queensland, Australia
December 2010

The Topknot Pigeon is endemic to eastern Australia where it is found from Cape York Peninsula to south-eastern New South Wales though it is occasionally seen further south.

It nests only in the rain forest but can be seen on fruiting trees in more open country. It feeds on fruits and berries mainly in the upper canopy of the forest.

It was first described by Joseph Banks, the botanist on Captain Cook's ship Endeavour, and has the dubious distinction of being the first pigeon to be shot in Australia. Cook's crew shot some for fresh meat.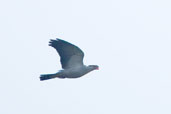 It is different from most pigeons in having crests on the cere, the forehead and the crown. During the mating display both male and female hold their crests erect while entwining their necks then the male has bouts of bowing. It does not seem to be closely related to any other groups of pigeon.

I had hoped to get a closer photo of this remarkable bird and its amazing crests but the only sighting I had was this fly-over at about 6:30 am at Paluma.

There is additional information available via Avibase.