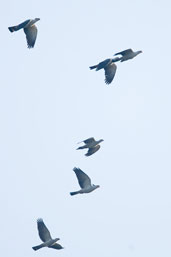 Paluma, Queensland, Australia
December 2010

The Topknot Pigeon is endemic to eastern Australia where it is found from Cape York Peninsula to south-eastern New South Wales though it is occasionally seen further south.

It nests only in the rain forest but can be seen on fruiting trees in more open country. It feeds on fruits and berries mainly in the upper canopy of the forest.

It was first described by Joseph Banks, the botanist on Captain Cook's ship Endeavour, and has the dubious distinction of being the first pigeon to be shot in Australia. Cook's crew shot some for fresh meat.