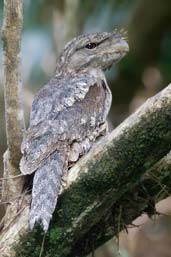 Queensland, Australia
November 2010

The Papuan Frogmouth is distributed in Papua New Guinea and in Queensland, Australia in Cape York and south down the east coast to Mt. Spec near Townsville. It is found at forest edges, in eucalypt woodlands, along riverside vegetation, close to swamps and mangroves and, as is the case in photos 2 and 3, in public parks (the Botanical Gardens, Cairns). This bird has a chick in the nest which is just visible.

It is similar to Tawny Frogmouth P. strigoides but is larger, with a more bulbous bill, a longer tail and a red rather than a yellow eye.

The call is deeper and slower than the Tawny Frogmouth.