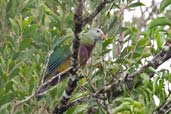 Kuranda, Queensland, Australia
November 2010

The Wompoo Fruit-dove is distributed in Papua New Guinea and along the east coast of Australia from Cape York to New South Wales. It is found in a variety of forest habitats where it feeds on fruit as its English name implies.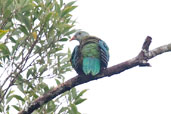 It is a large pigeon and, despite its colourful plumage, it can be hard to see in the foliage unless it moves. When it flies it weaves its way through the canopy rather than flying above it.

In the past they have suffered from being shot and, although they are now protected by law, they are still sometimes shot.

Their deep call is often a soft "wompoo"