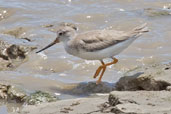 Cairns, Queensland, Australia
November 2010

The Terek Sandpiper breeds from southern Finland across Russia and the Ukraine into Siberia. It migrates south in the northern winter to the coasts of Africa, the Middle East, southern India, south-east Asia and Australia.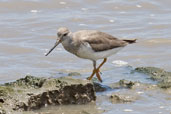 It usually arrives in Australia either in September or in November.

It is distinguished by its very long, gently upcurving bill and its short, orange legs. These photos show a bird in non-breeding plumage which is plainer grey-brown than its breeding plumage.

The name "Terek" comes from the Terek River of the northern Caucasus and Chechnya.