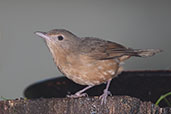 Paluma, Queensland, Australia
December 2010

The Little Shrike-thrush is distributed in northern and eastern Australia from Kimberley in Western Australia to Cape York and south to northern New South Wales. It is also in Papua New Guinea and surrounding islands. In Australia it is found mostly in tropical and sub-tropical forest.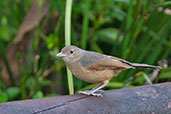 It is similar to Bower's Shrike-tyrant C. boweri but is less grey above and has a silvery brown to pinkish bill and pink-brown legs.

It feeds on insects and spiders but also snails and small crabs, seeds and fruit.

Its song consists mainly of rich, melodious piping whistles.