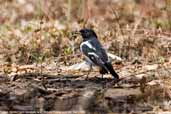 Mildura, Victoria, Australia
March 2006

The Hooded Robin is distributed throughout mainland Australia except the Cape York Peninsula, coastal Queensland and the driest deserts. It is usually found in dry eucalypt woodland and scrubland.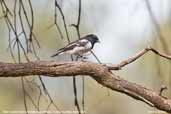 The male, seen here in photos 1 to 3, has a black hood which extends down its breast and it has two white shoulder and wing-bars. The tail is edged white and has white tips.

The female (photos 4 and 5) is grey-brown where the male is black.

It feeds on insects and worms which it finds on the ground but is usually seen perched quietly on trees or tree stumps.