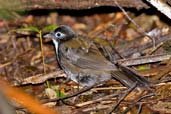 Paluma, Queensland, Australia
December 2010

The Chowchilla is a member of the Logrunner family of which there are three members. The Chowchilla is distributed in a small area of north-east Australia from Cooktown to Mt. Spec near Townsville. It is found in the dense undergrowth of tropical rain forest where it forages on the ground for insects and other small invertebrates.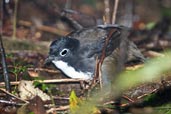 The male has a white throat and breast as in photos 1 and 2 while the female, seen here in photos 3 and 4, has a rufous throat and upper breast.

They tend to move through the undergrowth in small groups each of which has its own territory.

It gets its name from its call which can be very loud.