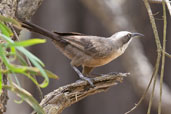 Australia
February / March 2006

The Grey-crowned Babbler is distributed in Australia from the extreme south-east of South Australia in a big arc through Victoria, NSW, Queensland, Northern Territory and into the north of Western Australia. It is also in the south of Papua New Guinea.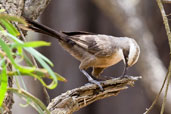 It is found in forest woodland and scrub where it feeds mainly on insects but also on fruits, eggs and nestlings.

It is the largest of the Australian Babblers and has a pale yellow eye and a broad white eyebrow above a dark mask.

It makes a variety of harsh chattering calls.