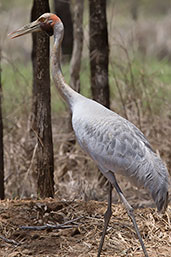 Lakefield NP, Queensland and Kakadu, Northern Territory, Australia

The Brolga is distributed in north and eastern Australia with small populations in New Guinea. They feed on a wide variety of food including, tubers, seeds, insects, small mammals and birds.

Slightly smaller than the Sarus Crane A. antigone, the Brolga has a dewlap, a smaller patch of bare red skin and grey legs.